Charles Sutton, M.L.I.S.
Acting Assistant Professor, Library and Information Science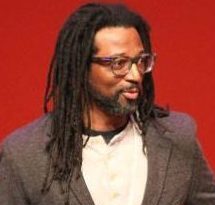 Contact
chasutt@iu.edu
317-274-2002
IT 555
Education
M.L.I.S., San Jose (California) State University (2009)
B.S., Business Management, Milwaukee (Wisconsin) School of Engineering (2001)
Biography
Charles Sutton currently is a doctoral candidate completing his Education Doctorate (Ed.D.) in pedagogical leadership from the University of Southern Indiana.
He worked in public libraries for over fifteen years prior to joining the faculty at IU's Luddy School of Informatics, Computing, and Engineering in Indianapolis. Sutton explores equity-oriented and participatory approaches to community learning within collaborative community change initiatives that address complex local/global issues. He is interested in the social-spatial manifestations of knowledge.
Through his teaching and service, Sutton is interested in leadership development and inclusive library environments. His work draws on African diasporic intellectual and aesthetic traditions, especially black music epistemologies.
Research Interests
Sutton's research considers sonic ways of knowing, African diasporic intellectual and aesthetic traditions, spatial imagination and community informatics toward a praxis of community learning and participatory action with epistemological and ontological commitments to social justice and decolonial/anti-colonial transformation.
Other interests include:
Facilitated learning
Spatial informatics and "deep maps"
Blues / hip-hop epistemologies
Multimodal scholarship
Related News