Liz Johns, Ed.D.
Associate Faculty, Library and Information Science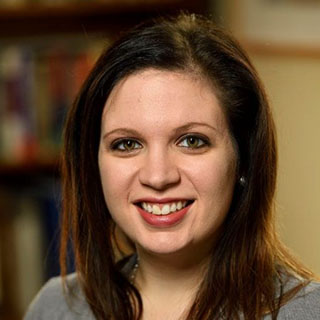 Contact
Related Links
Education
Ed.D., Entrepreneurial Leadership in Education, Johns Hopkins University
M.S. Library Science, University of North Carolina at Chapel Hill (2012)
B.A. Political Science and History, Gettysburg College (2010)
Biography
Liz Johns is an educator and information professional focused on teaching and learning in higher education. She is currently the Associate Editor for Reference Services Review. In this role she supports library and information professionals in advancing innovative scholarly conversation in libraries.
Johns teaches through a transformative lens, empowering students to take ownership of their learning and actively engage in the learning process through shared experiences and dialogue.
Previously, Johns was a librarian at Xavier University of Louisiana, focusing on library evaluation and assessment. She has also served as the Teaching and Learning Librarian at Goucher College, the Education Librarian and the Learning Design and Technologies Librarian at Johns Hopkins University, and a Teaching and Learning Librarian at Virginia Commonwealth University. Johns' teaching and research demonstrates her commitment to creating engaging, dynamic, and meaningful learning environments in both face-to-face and online settings for adult learners.
Additionally, Johns is the National Archivist for Sigma Sigma Sigma Sorority. She was recently promoted from Associate Editor to "Co-Editor" for Reference Services Review.
Research Interests
Professional learning for educators
Online learning and instructional design
Universal Design for Learning
Critical pedagogy and social justice in education
Information literacy teaching and learning
Courses
S505 Evaluation of Information Sources and Services