Mathew A. Powers, M.F.A.
Lecturer, Media Arts and Science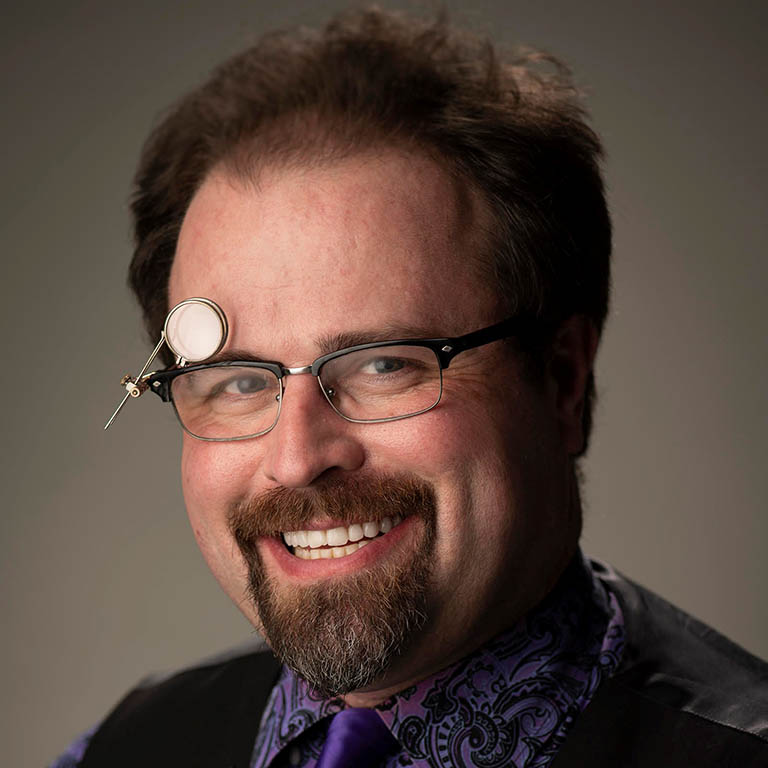 Contact
matapowe@indiana.edu
317-278-8448
IT 420K
Education
M.F.A. Digital Fine Art, Indiana University (2006)
B.A. Fine Arts, Indiana University (2002)
Biography
Mathew A. Powers is at home in worlds both real and virtual, teaching how to turn interests such as video and traditional analog gaming, sequential narratives, and creature design into careers. He helps students to develop skills in original personal creation; collaboration between diverse minds and talents; team-building as needed by all creative industries; business planning; and project prototyping.
Focusing on 2-D and 3-D creation, virtual reality, and game world environment construction, exotic lifeforms for games and digital narratives, Powers' classes explore character, environment, narrative, and game creation.
On YouTube, he's been a writer for the History of Video Games series on the popular Crash Course educational channel started by brothers Hank Green and John Green. Hosted by Andre Meadows, the 2016 series was inspired by Powers' History of Video Games course at IUPUI.
Head of Capstone development and presentations at Luddy
Created Vectren game on gas and electrical safety
Received MacArthur Foundation Grant for using the Spore game engine to teach Animal Classification for students in grades 5 and 6.
Helped create the Return of Aetheria alternative reality game for Gen Con, Indy PopCon, and Indiana Comic Con. The public ARG logged more than 900 players during its 3-year existence. Five instructors and more than 100 students worked on the project.
A gifted artist, Powers has created games and eLearning applications using Flash media development for Bloomington-based Option Six clients such as Microsoft, Eli Lilly, and Toyota.
Research Interests
Character, environment, creature, and narrative creation and analysis
Creating beings and life forms never seen before for public engagement
Experimental game design and implementation
Immersive virtual reality and gaming experiences
Incorporating traditional fine arts into the digital realm
Also:
Developing new ways for high and middle schools to teach traditional subjects through gamification
Development of augmented reality games (ARGs) for public consumption and education at venues such as Gen Con, PopCon, and local area schools
Exploring the traditional analog game renaissance
Being active in the games for good movement, which seeks to mentally and physically heal people through game creation and innovative therapies (such as using Tetris to assist PTSD patients)
Courses
Related News