Qin Hu, Ph.D.
Assistant Professor, Computer Science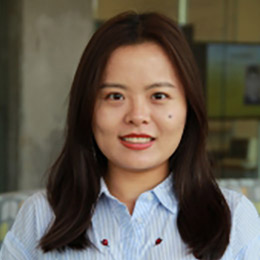 Contact
qinhu@iupui.edu
317-274-3815
IT 341
Education
Ph.D. Computer Science, The George Washington University (Washington, D.C.), 2019

 
Biography
Qin Hu is the principal investigator for the National Science Foundation-funded research project NSF CRII, PI: "CRII: CNS: Blockchain-based Distributed Machine Learning for Mobile Crowd Sensing", $174,823, 07/01/2021 — 06/30/2023.
She has given talks and presented papers focusing on blockchain systems and crowdsourcing.
Hu received the IEEE Outstanding Leadership Award, as Publicity Chair of the 20th IEEE International Conference on Embedded and Ubiquitous Computing as a part of the 2022 National Cybersecurity Center International. She's also received the Best Paper Award at the International Conference on Wireless Algorithms, Systems, and Applications, 2020.
She has served as editor and guest editor for several journals, including ELSEVIER Journal of Network and Computer Applications, and IEEE Transactions on Network Science and Engineering. Hu also has been the TPC/publicity chair for several workshops/conferences, including IEEE EUC'22, and TPC member for many international conferences, such as IEEE INFOCOM, IEEE Globecom, and IEEE Blockchain.
Research Interests
    Blockchain
    Crowdsourcing/crowdsensing
    Edge computing
    Federated learning
    Internet of things
    Security and privacy in wireless and mobile networks
Related News