Sarath Chandra Janga, Ph.D.
Associate Professor, Bioinformatics, Data Science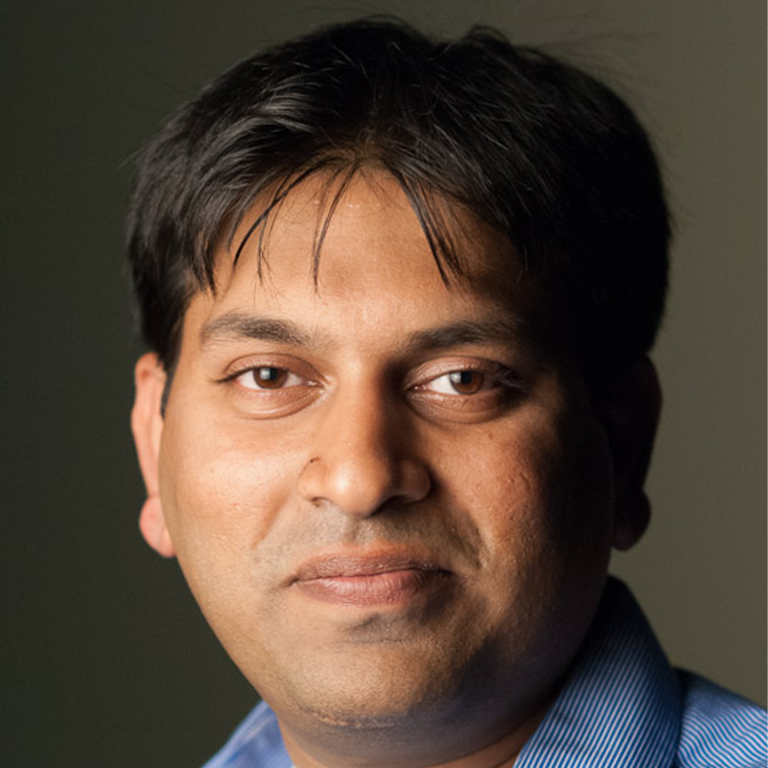 Contact
scjanga@iupui.edu
317-278-4147
IT 479
Related Links
Education
Postdoctoral research, Institute for Genomic Biology Fellow, University of Illinois at Urbana-Champaign
Ph.D. Molecular and Systems Biology, University of Cambridge (MRC Laboratory of Molecular Biology)
B. Tech & M. Tech (Dual Degree in Biochemical Engineering and Biotech), Indian Institute of Technology, New Delhi
Biography
Sarath Chandra Janga leads a team of researchers who seek to identify the molecular players at different scales that interfere with the normal functioning of cellular networks in humans and other model organisms.
His work recently has included collaborating on COVID-19 research to develop new diagnostic tests for rapid detection of the viral strain.
Janga also has been examining the fields of epitranscriptomics, exploring RNA modifications: the factors that ultimately control the fate of protein production as DNA is transcribed to RNA and then translated to proteins, and how genes are regulated in a cell at post-transcriptional level by RNA-binding proteins as well as long non-coding RNAs.
More broadly, the Janga Lab of Genomics and Systems Biology is developing computational approaches to mine complex and heterogeneous data sources, which are publicly available in biomedical sciences.
From data to diagnosis
Exploring the possibilities of artificial intelligence and machine learning, the lab examines the phenotypic landscape of an organism and its relevance to disease conditions. To achieve this goal, researchers exploit diverse sources of data that stem from a burgeoning number of high-throughput technologies, to turn this information into valuable knowledge.
Janga and the lab's researchers also generate experimental data in genomic sciences, and develop new types of data analysis methods—as well as algorithms—to extract, mine, and analyze such complex data sets to facilitate novel technology development for stratification and diagnosis in cancer and neurological diseases.
Early in his career, Janga helped to shape an understanding of the structure and dynamics of bacterial gene regulatory networks, working in Mexico with the group of Dr. Julio Collado-Vides at the Laboratory of Computational Genomics in Center for Genomic Sciences at UNAM in Cuernavaca. This was followed by doctoral work in England on exploiting network-based approaches in studying cellular networks at the MRC Laboratory of Molecular Biology, Darwin College, University of Cambridge, with Drs. Madan Babu and Sarah Teichmann.
Janga was an Institute for Genomic Biology Fellow at the University of Illinois in Urbana-Champaign, working on applying computational and systems approaches to mine metagenomic samples for identifying novel antibacterial pathways and compounds during his post-doctoral period (2010-2012).
Research Interests
Professor Janga's research integrates computational and experimental multi-omic approaches to study complex and heterogeneous data sources in biomedical sciences, with the goal of understanding how the regulation, structure and dynamics of biological systems shape the phenotypic landscape of an organism and its relevance to disease conditions. His interdisciplinary research team in collaboration with clinical and translational scientists, examines these questions using cutting edge next generation sequencing technologies and data science frameworks to develop novel bioinformatics algorithms to understand how RNA interactions, structures and their cross talk with various cellular entities in cell lines and animal models can be employed for dissecting complex phenotypes in liver, brain, kidney and immune diseases.
Applying network-based approaches in understanding disease biology and in drug discovery settings.
Exploiting genomic data for gene function prediction
Mining genomes for novel antibiotics
Integrating data sets stemming from post-genomic technologies
Classes
INFO B619 Structural Bioinformatics
INFO B656 Translational Bioinformatics Applications
Related News